2021 – A New Year for More Female Voices
"Still I rise". Lecturer, writer, and feminist activist Sonia Kadek Piscayanti (Sonia) begins to read Maya Angelou's poem, concluding the online launch of the book she had edited: Suara Tepi Hati: Catatan Kecil 9 Perempuan, on Tuesday morning December 22, 2020. Indeed, 9 Balinese women have risen both from their different socio-cultural shackles and from the comfort zone of handling their struggles without sharing them with a wider audience. Putu Ayu Sutaningrat Puspa Dewi (Puspa) is one of them, and in June 2020 she initiated this book project, inviting some of her friends to share their stories, and Sonia as a mentor for them. The aim was to write the stories of a transitional life stage (from teenage years to motherhood) as an inspiration to other young women in Bali who will soon become wives and mothers.
As Sonia writes in the book's foreword, this project grew into a listening space for the women authors, "a home for their hearts" to engage in a safe dialogue. Moreover, it has the potential to expand as a bigger movement of women who speak their minds and hearts publicly. The courage of 9 women who share their intimate stories (which, until now, only dwelled at the shore of their hearts), will definitely inspire other women to do so. And the work they put into sharing these stories through writing is impressive.
Nevertheless, these 9 women are not (yet) writers. Though many of them have written in business or academic styles, literature writing is something new to them. As beginners in this field, they write their stories in a raw, honest, vulnerable, and brave style, devoid of esthetic purposes (though delightful for the reader), similarly to a diary, or a memoir. More than a "literature of the heart", as an aspiring anthropologist, I would rather consider this book as a collection of auto-ethnographic essays, which cover a myriad of topics relevant to women, across all levels of human life: (inter-)personal, social, cultural, economic, and thus, ultimately, political, in a radical feminist sense. Gender roles and limitations, religious beliefs and implications, intimate life and self-making practices, marriage and other social ties, motherhood (and wider, parenting), schooling and labor market opportunities and restraints, gendered bullying and violence, sexual and health education, are all presented from the personal point of view of these authors – their subjective experience.
Starting with their childhood experience, or going even further back in time, during the youth of their mothers, these authors share their stories of becoming Balinese women. Moreover, they reflect on, "unpack", and challenge the ideas, definitions, and larger paradigms of what it means to be a Balinese woman, through a healing, self-forgiving, and liberating writing process. Finally, these women show how they worked on finding, and or re-defining themselves, for themselves, and in relation to others, but not for others' sake.
All these processes took part, both in the personal space of writing of each author, and in the sharing-space provided by this project. The frequent online meetings became not only mentoring on writing, but a safe place for listening, mutual support, reflection, growth, and learning for both the mentor and the authors. They nourished together the culture of collaboration, of democratic sharing and decision-making, with ho hierarchies, but equal rights. This allowed for new types of intimacy among them, although many already knew each-other beforehand. As Sonia confesses during the book launch, while she already knew these women – many for long time – as friends, as activists, or as professionals, through this project she reached deeper levels of understanding them. She found out some of their "little" secrets, their voices who were rarely public: the stories at "the shore of their hearts" (suara tepi hati).
This project initially aimed at empowering other women, but it has already brought benefits among its own writers and mentor. They share the consensus that now, even more than ever because of the harsh Covid-19 pandemic crise, women need to support each other, speak up, and fight together for themselves, their families, communities, and a better society. This first result of the project makes it already a movement, a beginning much yearning for continuation led by other women, in they own way.
Because the ways of these 9 women are also distinct and unique, as are their backgrounds and personal journeys. They juggle different roles as young mothers, daughters, wives, career women, volunteers, feminist activists, and recently, writers who bravely put their hearts out there, in the world, so they can have a bigger impact on the next generations of Balinese young women. Being a Balinese woman is not easy: frequent ceremonies to prepare and atend, the caste system, moving into the husband's homes after marrying, being anak sulung perempuan, nyentana, kawin lari, and other Balinese traditions. During the book launch the authors explain why the Balinese women are and have to be strong in this context. Also, each of the 9 women shares her reasons for being part of this movement, and a message for her readers.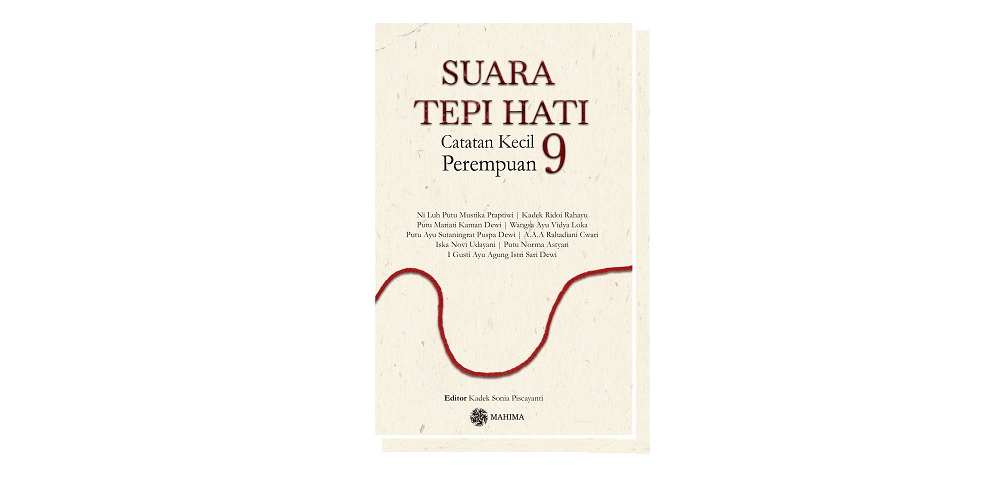 Ni Luh Putu Mustika Praptiwi (Tika), civil servant within a university, says she dedicates her writing to her mother, who inspired her through the way she managed to overcome all the challenges of being a Balinese mother. Tika also explains how her story is aimed at understanding herself and her childhood wounds, and not to portray her family members in a negative light. She embarks in this self-healing journey to make sure she can truly love her origin family and the new one she created with her husband.
Kadek Ridoi Rahayu (Doi), public health educator, highlights the importance of self-love for women, starting with their bodies, and the awareness on their total rights over it. Doi came up with the name of this project as SEMBILAN (9) women: SEM(ua) BI(sa) LAN(jutkan), meaning all (women) can continue, move forward. She hopes that this movement will lead to 900 other stories of Balinese women. She fights for raising awareness on gendered based violence and believes in empowering women through education, especially health, reproductive and sexual education, started in the family and continued outside it. She invites women to come together, to collaborate in creating more safe spaces for expressing themselves. Loving your own body and yourself, starts with a big self-hug.
Putu Mariati Kaman Dewi (Ima), dentist specialist, points out to the importance of asking for help, especially when women like herself have to be both mothers and fathers for their kids. This does not mean that women are weak. While their appearance is soft, Ima says, women's hearts are as strong as the coral reef. Asking others for help, and supporting each other, is a way to keep the strength of this heart and ensure its contribution to the society.
Wangsa Ayu Vidya Loka (Vidya), clinical psychologist, mentions the importance of tolerance and harmony within the family, in the context of a sexist society. The Balinese system, she says, is unfair, and this can be felt at the workplace, within marriage, and in most places. Both men and women are affected, as there are specific expectations to what they should do in society, according to their gender. Speaking from her experience, Vidya says that women should feel safe, not because they are women, but because they are humans.
Putu Ayu Sutaningrat Puspa Dewi (Puspa), educational consultant, shares her belief that every system can change for the better, her mother being the real proof for this, by choosing the man she loved against the strict caste rules. Puspa looks then at her own life and says that every situation is an opportunity to grow, and this brings her the light of hope even in the darkest moments. She invites all women to support each other, be that hopeful light, and fight for equality and teamwork within marriage.
A.A.A Rahadiani Cwari (Riris), guest service executive, acknowledges the empowering effects of sharing stories among women, and sees her writing as an opportunity to process her life experiences, and its ups and downs. Her conclusion is that a woman's life doesn't end when getting married. Women should continue to search for and give meaning to themselves and to others. Let's be empowered together!
Iska Novi Udayani (Iska), medical practitioner, confesses that this book project is the first creative work in her life, which made it very difficult at the beginning. Later she realized she has to be honest and open minded in order to be able to write the story lying at the shore of her heart. And the truth about her life, Iska says, is that she had to change from a spoiled child into a person responsible for her entire family, becoming stronger from the lessons of her very sad experiences.
Putu Norma Astyari (Norma), human resources expert, recounts being worried that she wouldn't have a story to tell the world. What do I want to say? And how? Eventually, she learned that every woman has a story, and that every story has a lesson. And this lesson, she learned it from the community of the 9 women involved in this movement. She just needed "the right time" to decide to write about herself, and to follow this decision, exactly like there was a right time for other things she experienced in her life. Nevertheless, she says the right time can be different for different women, and this is ok.
I Gusti Ayu Agung Istri Sari Dewi (Gung Is), educational trainer and business-woman, remembers how, during this project, she was part of a real dialog about women's concerns. In fact, she says, this project is one of her dreams come true, and a proof that people with same intentions will eventually create beautiful things together. Her message for the young Balinese women is: You are not alone! You have to believe there are other women who experience the same things as you do, and there is a safe space for you to talk about it.
Finally, as Norma says, women are the heart of the family: if the heart stops, the family can hardly move forward. Addressed primarily to future young mothers, I see this book as extremely relevant for a much wider audience, including the daughters of these women, but also the fathers and brothers of young women, and all the young men who will later become their life partners. It takes a village to raise a child, says an African proverb. Unfortunately, sometimes it takes the same village to put down a woman. During the launch, Riris reminds women to stop putting down other women. Instead, she invites them to follow the example of this movement and become a woman who supports other women.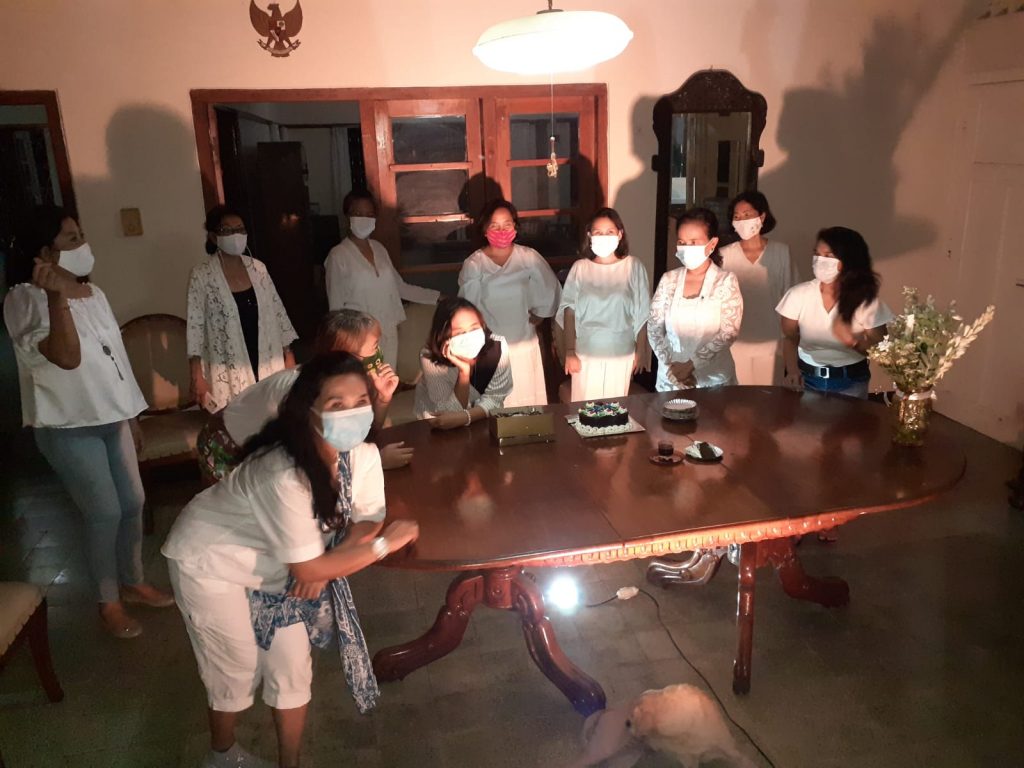 After the book launch, I come back to the book foreword, written by mentor Sonia: "9 women, 9 centers, 9 directions, 9 forces that converge". She explains that there are 9 Hindu cardinal directions which are at the center of all energy. It is not surprising that these 9 women, 9 forces which converge to meet themselves and each other, find their "center" in Sonia. Within and beyond Komunitas Mahima, Sonia is indeed a center for Balinese women's voices. Moreover, not only did she moderate the launching event, and edit the book, both as if from "the backstage", but she is also an expert in creating open spaces for women's expression as a theater director.
Ten hours after the online book launch, Sonia is surrounded by other 11 Balinese women. This time, in the beautiful house of one them, Tini Wahyuni's house: a former medical practitioner, now a painter. Each time one of the women enters the house, there is joy, loud greetings, and sparkling eyes above the face masks. Sharing doesn't stop at talking and feeling, but extends to different food that these women bring. I am kind of shy because I never met them, but once they notice me, many of them approach me and engage in conversations. I feel like at a big family reunion. Sonia is the youngest, and all the others could be her mothers. 11 mothers.
They meet today to celebrate 2 years since Sonia initiated the project 11 Ibu 11 Panggung 11 Kisah (11 Mothers 11 Stages 11 Stories), a drama-based feminist movement enacting women life stories. Today is about remembering and reflecting on how this project still impacts the lives of the women who dared to speak up their hearts. While Sembilan Perempuan focuses on the lives of younger women, 11 Ibu gives the stage to older women, often forgotten by society. Not by Sonia, not by themselves, and hopefully, through this movement, never by their communities.
These 11 mothers come as well from very different backgrounds, including persons who do precarious hard work like carrying stones to support their family and persons with hearing and speaking difficulties. Despite all these differences, they all share the courage to show themselves to the world, to show that they still matter, and their commitment to support each other.
The event starts with a briefing of the project and continues with heartful poems that each woman performs. The stage is theirs, each one is a protagonist, and the energy is vibrant. The sense of family they recreate, is one of an ideal family, where each member is free to choose her own path, and do things her own way, despite all the socio-cultural and internalized, embodied restrictions. In a matching tone, one of the mothers leads the final performance of the evening, by playing Sinatra's "My way" on the piano, while all the others join with their voices.
Voices. Hearts. Women. Too many still unspoken, unheard, unwritten. Still, there is hope. Balinese women movements keep it alive. Still they rise. [T]