I am originally from North Bali, and I am extremely thankful for the beautiful life I have here. We have beaches, waterfalls, hills and cultural sites worth visiting. If you are a waterfall addict, you don't want to miss waterfalls in North Bali. Each offers beautiful scenery, fresh water, greeneries, and a spot to jump or just a swim in the waterfall.
I would like to highlight one of the waterfalls in Buleleng regency called Banyumala Waterfall, which is located in the southern part of the regency. This particular place has always been on my Instagram timeline, and the beauty is unquestionable.
From the capital city Singaraja, you have to drive south for about 45 until 60 minutes to a village called Wanagiri. The temperature will slowly fall as you drive south. This village is very famous for its clove, vegetables and coffee plantation, plus it has twin-lake scenery.
You can absolutely stop for a while to just enjoy the twin-lake view, take pictures, get some rest and have a cup of coffee (sounds very nice, right?). Travel tip: it is better for you to travel by motorbikes, since the road will turn into dirt as it approaches the waterfall.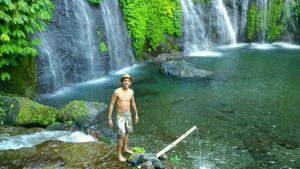 Don't worry about getting direction, since information panels are installed on the road side. It is not too difficult to find the'gang'(small road) that leads to this waterfall. Once you get to the parking lot, you will have to buy an entrance ticket. After buying ticket, you have to walk through clove plantation. A small hike will be on the way leading to the waterfall. It was surprising for me that this place gave me such a mysterious chill.
I don't know if it is because of the weather or the atmosphere, but surely I was very happy to be walking through the plantation.
After a small hike, the waterfall was clearly visible. It was… magical. I literally couldn't find appropriate words to describe this wonderful place. One thing for sure is that I am extremely grateful to be here, to be surrounded by green bushes and sprinkled by fresh water.
I just want to say this to everyone on the island; you have to visit this beautiful place, at least once in a lifetime, or you're gonna miss one of the most valuable gifts Mother Nature has given us. (T)